New Families - Information
May 2021 Digest for New Families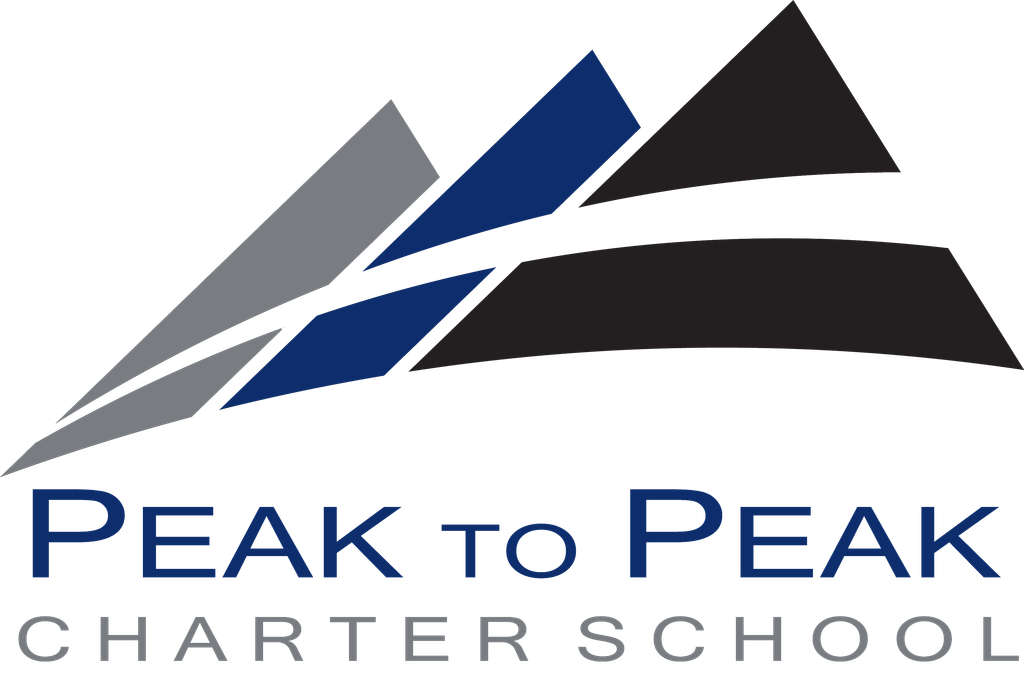 Welcome to the Peak to Peak Community!
Information and Updates

Link to monthly and yearly calendars

Frequently Used Webpages:

NEW Looking Forward to August

On behalf of the entire staff and the Board of Directors, I would like to say a warm welcome to Peak to Peak's learning community! You are joining a wonderful school where we pride ourselves on academic excellence, character development, service to others, strong relationships, and thoughtful preparation for college. We deeply value the home-to-school connection, and we know that students do their best learning when teachers and staff work in partnership with each other. Whatever grade level your student(s) are entering in the fall, you can be assured that you will find a welcoming community of teachers, support staff, and administrators to guide them as they start their educational journey at Peak to Peak. We are very much looking forward to meeting you and creating a partnership with you. Please look for additional communication from us as we get closer to the start of the 2021-2122 school year.

Until we can meet in person, please accept my best wishes for a safe and productive spring and summer. Please take some time to get outside, enjoy nature, and do some favorite activities. Read some books, do some writing, play some games, and have fun with whatever you choose to do. We'll look forward to welcoming your student(s), our newest Pumas, to Peak to Peak in the fall!

Warmly,

Kelly Reeser

Executive Director of Education

On Behalf of the Peak to Peak Administration and Board of Directors

---

NEW Summer Reading & School Supplies

Students in 4th-12th grade are asked to complete summer reading assignments. These assignments are intended to keep young minds active over the summer months and enable a strong start in the fall. You can find school supply lists and information about summer reading assignments for each level, in addition to any required text purchases for secondary courses on our website and via the links below:
Registration Information and Instructions
Each year in August, a few days before school begins, students meet with teachers for initial greetings, visiting classrooms, bringing school supplies, and starting assessments. This allows students and teachers to get to know each other in small groups, gain familiarity with new classrooms and grade levels, and greatly reduces first-day jitters and materials.
Please sign up for one time slot during our Assessment Days of August 16-18, 2021. Plan for your student to be at school for approximately two hours. These days also serve as Elementary Registration Days, including school pictures and health room items, so plan to take care of those items either at the beginning or ending of the testing time slot.
Sign-ups will be completed on the same system we use for scheduling conferences. This will also email you a link with the ability to change over the summer should your plans change. Please choose a time for the grade level your student will attend NEXT year by visiting this sign-up page!
Secondary:
Secondary Registration will take place on August 11th and 12th. This is a time for students to turn in paperwork, get their assigned lockers, drop off supplies and get pictures and student IDs. We will also welcome our new secondary students back to school with a transition day. Monday, August 16th High School students will come 8-11:30am, 6th Graders 8-12pm, and tours will be provided for 7th & 8th graders from 10-11am.
---
Critical Contacts
We wanted to provide you with a brief list of critical contacts that you may find helpful as you join the Peak to Peak community. We are here to support you and to answer your questions. The individuals available through the contact information below will be able to direct you to the right person to address your questions if they are not able to help you directly. Please keep in mind that the school building will be closed during the month of July.
Main Office
Traci Schoeneweis
303-453-4682
Health Room
Donna Rader
303-453-4616
Business Office - Fees
Amy Skinner
303-453-4663
Attendance
303-453-4605
Counseling
Communications
Jen Dauzvardis
303-453-4730
Food Services
Elizabeth Begley
303-453-4782
---
Communication Pathways
We use the Communication Pathways at our school as an effective, respectful, and efficient pathway to a solution when an issue arises. It is a good starting point method to address any issues. You may periodically receive reminders about the Communication Pathways in our weekly digest. Keep in mind that when you are seeking information or answers to questions, we always welcome dialogue with any member of our community. The Communication Pathways are intended as a problem-solving strategy.
---
Transportation
Peak to Peak uses a database called "Way to Go." All of our families are included, however, there is an option to opt-out. By being included, you are allowing "Way to Go" to share your information only with other Peak to Peak families that live near you for purposes of carpooling, playdates, last-minute rides, or other coordination. There is no obligation to carpool; it is for informational purposes only.
There is an RTD bus stop on the west end of campus near the intersection of Merlin Drive and Spaulding Street. Please visit the RTD website for routes and information.
---
Website
There is a wealth of information on the Peak to Peak website. While this can be a helpful repository of information, it can also be overwhelming when you are looking for that "one particular thing." Using Google Analytics as our guide, we have consolidated the most commonly used links on the home page, in the footer of every page, on the Students page, and on the Parents/Guardians page of the website. In addition, the search feature, which is available at the bottom of every page, can be a helpful tool. We encourage you to take some time this summer to get to know the different areas of the website so that you can become familiar with the resources available to you. If you ever have trouble finding something, or if you need assistance, please reach out for assistance. There is no need to become frustrated when there is a team of people ready to help!
---
Infinite Campus Updates
Each year prior to the start of school, the Boulder Valley School District will initiate a process for all families to update their contact information as a part of registration. This is your opportunity to update any changes in physical or mailing addresses, as well as any changes in emergency contact information. In the past, this has been referred to as the "Annual Data Update" or "ADU." You can find more information and instructions, including a video, about the ADU process on BVSD's website.
Mentor Families
Your mentor families will be contacting you over the summer. Something to look forward to!
---
Athletics Registration
All secondary sports will open for registration on July 28th for the 2021-2022 school year. If you have students planning to participate in our athletic program, we encourage you to obtain a sports physical in advance to avoid any delays in the fall. More information about registration can be found on the website under Programs, Athletics, and Registration Information. Physicals can be emailed to Amanda.Smith@bvsd.org.
---
Free/Reduced Lunch Applications
Free and Reduced Lunch Applications for the 2021-22 school year will be posted to the website over the summer. Links and forms will be provided in upcoming communications and during registration.
---
Homeroom Placements
Homeroom placements for elementary school will be published in August, prior to the first day of school.
---