Welcome to the Peak to Peak Weekly Digest!
4/12/21-4/16/21
All School News

Table of Contents:

P2P returning to full-time in-person learning next year
Accountability Committee Family Survey
Virtual community Q&A: Annual Family Survey
Food Services closing early on April 13th
BAASC registration for 2021-2022
EOY information from our Registrar
Meet your Board candidates
Hiring Committee openings
The Puma Spotlight

Student climate survey results
Elementary yearbook custom pages
Parking lot information
Garden google meet
Common Sense parenting classes

Attendance change
Student announcements

CMAS testing
Student climate survey results
7th grade WEB
International Purple Comet competition

Volunteer opportunities
Upcoming meets
School song update
Parking spots

Volunteer meeting
Opportunities and interests
Needs: First grade book covers
Volunteer information

Calendar:

Link to monthly and yearly calendars

Frequently Used Webpages:

---

NEW Peak to Peak Returning to Full-Time In-Person Learning Next Year

Barring any surge in the community spread of the virus that would prevent schools from operating normally, Peak to Peak will be returning to regular, full-time, in-person learning for the 21-22 school year. There will be no distance learning option for the 21-22 school year. Families who would like a guaranteed option for distance learning next year will need to explore other school options within BVSD or elsewhere to support this. Similarly, all staff will be expected to return to work in-person next year. We have made this decision based on the resources we have available at Peak to Peak, and because we have reached a point in the pandemic where it is clear that in-person learning can be conducted safely. Peak to Peak is not able to hold any enrollment seats for families that choose to enroll their student(s) in another school. Please visit BVSD's Enrollment page for more information about options that are available within the district.

---

NEW Accountability Committee Family Survey

Dear Peak to Peak Families,

Each year in January, the Accountability Committee conducts the Annual Family Survey of our parents and guardians to collect feedback on how the school is doing in key areas. The results of the 2020-2021 survey will be presented at the virtual Community Meeting on April 26, 2021 (please see the next article below for details) and the report is now available on the website at this link: 2021 Annual Family Survey Results.

In addition to the positive trends that were identified, the committee looked at areas where families indicated that improvements are needed. Members of the committee will meet with Board members and administrators in the fall to follow-up on action steps that are being taken to address the identified areas where improvement is needed; a written response will be published for the community in the fall of 2021.

I would like to commend the entire Accountability Committee for their excellent reports and summaries, and for the many hours of work that they put into conducting the Family Survey each year. The data collected is invaluable to the administration and the Board, and it helps inform school improvement efforts. Many thanks to everyone who took the time to complete survey!

With gratitude,

Kelly Reeser, Executive Director of Education

---

NEW Virtual Community Q&A: Annual Family Survey

The Accountability Committee invites all in our community to attend the virtual Community Night Q&A on Monday, April 26, 2021 from 6:30-7:30 PM. Members of our committee, along with ELT members will be there to answer any questions you may have regarding this year's Annual Family Survey. We encourage everyone to read this year's survey prior to this event, and it can be found here: The 2021 Annual Family Survey Come Join Us!


April 26 6:30-7:30 PM

Meeting ID

Phone Numbers

(‪US‬)‪+1 575-586-5195‬

PIN: ‪175 313 434#‬

A continued message of thanks and gratitude to all community members who responded to the survey, this year in record numbers, as it is evident how much our community cares about our school. Also, Thank You to the Accountability Committee for your tireless dedication to our mission and support of the school. See you there!

Kate Martin, Accountability Committee Chair

---

NEW Food Services Closing Early on April 13th

Due to state testing, Food Services will be closing at 12:30 PM on Tuesday, April 13th.

---

NEW BAASC Registration for 2021-2022

Hello Peak to Peak Families,

Our Before and After School program (BAASC) registration will open Thursday, April 15, 2021 for new and incoming families. Families will be notified of their enrollment status by Thursday, April 22, 2021. P

lease follow this link to register:

The BAASC program is open Monday-Friday 7:00-8:00 AM and 3:00-6:00 PM on school days. BAASC offers full daycare for in-service days and during school breaks.

If you have any questions about the BAASC program please contact p2pbaasc@gmail.com or 303-434-7008.

Justene Dorr, BAASC Manager

---

NEW End of Year Information from Our Registrar

A

s we approach the end of the school year here are a couple of reminders for our families.

End of Year Withdrawals/Transfers: We ask ALL students that will be transferring to a different school for the next school year, even those that have gone through open enrollment to attend another BVSD school, to formally withdraw. This just means complete and return the

attached

WITHDRAWAL FORM, turn in Peak to Peak materials, and clear all accounts. Please touch base with our bookkeeper to clear accounts, amy.skinner@bvsd.org , and check in with our main office for detail on how to return items that your student has checked out. Once done please email completed withdrawal forms to our registrar, vicki.lundquist@bvsd.org .
Final Report Cards: Once grades are finalized for the current school year, which is about two weeks after the last day of school, please visit your Parent Portal and PRINT your student's report card for your records. It will only be available until the new school year becomes active. This is for all students K-12. For our drivers, this is what the insurance company will require for good driver discounts.

---

Meet Your Board of Director Candidates

The 2021 election for the Peak to Peak Board of Directors is coming in early May. There will be THREE OPEN SEATS for elected board members. Two of the seats have 3-year terms and the third seat has a 2-year term. The online election will take place in May with specific voting information and details to follow at that time. Please click on their names to read the answers to the candidate questions:

Please contact Traci Schoeneweis with questions.

Thank you,

The 2021 Peak to Peak Election Committee

---

Are You Interested in Our HOD Committee (Hiring Team)?

Peak to Peak's HOD committee (Hiring Team) is talking with community members who may be interested in volunteering for this team. To learn more about what we do please go to: HOD Committee

If you might be interested and would like to have a conversation, please email Sarah Greene.

The Puma Spotlight is a place where we capture and celebrate the success of our students and staff members. Each spring, we are delighted to see an increase in the awards, scholarships, championships, and significant accomplishments of our Pumas. Be sure to visit the Puma Spotlight page on our website to see the good news that has been rolling in this month. At the top of the page, you will find a link to submit your students' achievements to be shared with our community.
---
NEW

Student Climate Survey Results
Dear Elementary Families,
This spring, our K-12 staff administered Peak to Peak's annual student climate survey to students in grades 3rd-12th grade to gauge student perspective and feedback regarding school climate...please click ES Student Climate Survey Results to read the entire article.
---
NEW Elementary Yearbook Custom Pages
The DEADLINE to create your child's two

FREE custom pages

for the Elementary Yearbook is APRIL 19th! TreeRing is easy and intuitive to use, so you can get your child's memories from the year captured for their yearbook. Please see the image below or the

attached

flyers for information on how to create your custom pages.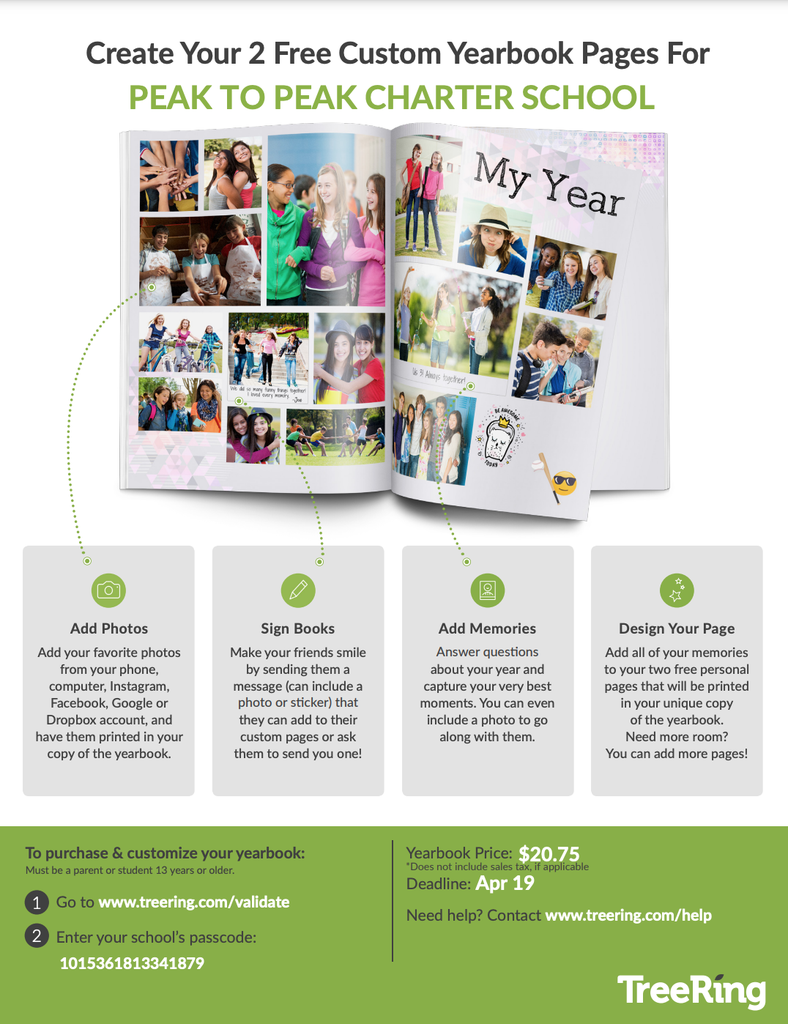 ---
NEW Parking Lot Information
With the return of secondary students to campus, there is an increase in traffic in the west parking lot. With limited available parking space for our high school drivers, we ask that elementary families pull into the main parking lot from the main entrance and park in the section closest to the building. Any spaces beyond this first section of the parking lot, noted by the Student Parking Permit Sign are for student use only. Families also can park on the east side of Merlin Drive but not on the west/neighborhood side (you will be ticketed). Elementary drop-off and pick-up will continue in the front circle. Thank you for helping our young drivers!
---
NEW P2P Learning Garden Team Special Earth Day Meet
On Thursday, April 22nd join the Peak to Peak Learning Garden Team for an one-hour Earth Day "Science in the Garden" virtual meet! Pre-registered families will receive a packet with supplies and materials for 3 fun and easy garden theme experiments. Experiments are generally appropriate for grades K-5. Please fill out this interest form to register and receive more information or email P2P parent Kim Livingston.
---
Common Sense Parenting Classes
We are excited to share that the district is hosting one more series of virtual Common Sense Parenting classes this spring, beginning April 20th. (This is aligned to the Well Managed Schools behavior approach our elementary has been using over the last several years.) Many parents have attended previously and found it to be extremely beneficial, and the teachers of the course have shared that the virtual formats have been very successful this year. You can see more information on dates, times, and registration information here: Common Sense Parenting Class.
---
---
Starting this week, we have implemented a few changes with our attendance procedures.
If your student is Distance Learning due to a COVID-related quarantine, they will be marked as "CVA" (CoVid Absence) in IC. This "absence" will not count against them in their attendance record, and students should still log in online at home, if they're able.

If a student who is assigned to In-Person learning logs in online for a class, they will be marked as tardy with a note "in Distance Learning." This allows us to account for who is on campus for safety purposes, and to create an accurate record of who is on campus at any given time for contact tracing, should the need arise. Please remember, students who are assigned to In-Personal learning are expected to attend all of their classes in person each day. If In-Person students are logging in online without prior approval, they may be switched permanently to Distance Learning. (This does not apply to students in CVA status.)
We apologize that you may receive extra attendance notices via Infinite Campus because of this new protocol and appreciate your patience as we work out a new system to best keep our students safe for the duration of the term.
---
NEW UPDATE: Health Screen Reminder Texts will Continue Through April 15tA
An article ran in last week's digest stating that reminder texts would end after today, but we need to extend the text reminders for secondary families through April 15th due to testing week. Please remember to get your student's health screener form in by 7:15 AM each morning. Parents/Guardians should complete the health screen only on days when their student is scheduled to be on campus. Thank you for your assistance.
Weekly Secondary Student Announcements
Please click the below link to view the daily middle and high school student announcements:
"The Voice of Peak to Peak" (daily secondary student announcements)
---
---
Middle School students will complete CMAS testing next week (April 13th & 14th for 6th-8th grade, and April 15th for 8th grade). Students who have opted out of testing, or are in Distance Learning, will not have classes on these days. (Please note, the opt out deadline has passed.) For more information and to see details about dismissal times, please check this page on the website.
---
NEW Student Climate Survey Results
Dear Middle School Students and Families,
This spring, our middle school staff administered Peak to Peak's annual student climate survey to students in grades 6-8. Students completed the 22-question survey online, and all responses were anonymously reported. The purpose of our annual student climate survey, administered to 3-12 graders, is to...please click MS Student Climate Survey Results to read the entire article.
---
NEW Attention Families of Current 7th Graders
WEB, or Where Everybody Belongs, is a student-led group that helps incoming 6th graders transition to Peak to Peak. WEB is recruiting rising 8th graders for their leadership team. If your student is interested, please have them fill out the application here: 2020-2021 WEB Application. Please contact Ms. Black (jamie.black@bvsd.org) or Mr. Carter (nicholas.carter@bvsd.org) with questions.
---
NEW International Purple Comet Competition
Want to try out in a team math competition? Join us at the International Purple Comet competition for middle schoolers. It takes 1 hour to complete 20 questions as a team. We have some open slots in our teams for Friday, April 9th at 3:00 PM. Join us online at https://meet.google.com/aid-xrma-gie/.
Please contact Ms. Chakraborty-spotts if interested.
---
NEW PSAT and SAT Testing
All 9th-11th grade students, including distance learners, will take the PSAT (9th & 10th) or SAT (11th) next Tuesday, April 13th. There are no secondary classes on this day. Students should report to their testing room by 7:45 AM and bring a calculator, #2 pencils, a bottle of water (no other beverages) a snack (optional), and a mask. Please be sure to complete the health screener before your student arrives on campus to ensure we can carry out this test day safely and efficiently.
---
NEW

Season D
Seasons are starting in the next couple of weeks! Please get registered and up to date with your physicals prior to your season start dates.
April 19th:
Middle School Girls Soccer

Middle School Baseball

Middle School Track & Field

High School Girls Golf
April 26th:
High School Girls Soccer

High School Baseball

High School Track & Field

High School Girls Tennis
---
NEW

Volunteer Opportunities Open for Next Year!
We are thrilled to start organizing volunteer opportunities for next year! Between our new family mentor program kicking off in a few weeks, to all our back-to-school events, and more... we would love for you to start thinking about what you may be interested in helping with in the 2021/22 school year. For a comprehensive list of the many ways to support Peak to Peak, please check out this chart. Ready to let us know what you are interested in? We invite you to fill out this form so we can begin sharing information about these opportunities. If you have questions please contact Rachel Hirt, Allie Cross or join us for a virtual volunteer meeting on Monday, April 12th at 2:00 PM, join by google meet here.
NEW

Upcoming Community Meets:
NEW P2P Learning Garden Team Special Earth Day Meet: On

Thursday, April 22nd

join the Peak to Peak Learning Garden Team for an one-hour Earth Day "Science in the Garden" virtual meet! Pre-registered families will receive a packet with supplies and materials for 3 fun and easy garden theme experiments. Experiments are generally appropriate for grades K-5. Please fill out this interest form to register and receive more information or email P2P parent Kim Livingston.
Wine Club: Our final wine tasting meet for the year will be the

first week of May (TBD)

. To receive updates on this festive community group please email Christy Vaughan

Book Club: "White Noise" by Don Dellio will now be discussed

Wednesday, April 14th 7:00 PM.

Please join us on Google Meet: meet.google.com/itk-qciu-ixs
NEW

Spirit Committee - School Song Update
Our school song team is building, but what we especially are looking for is someone with equipment and skills to help make the dream of an original song a reality! We have staff members, students, and community members ready to submit lyrics and ideas but we would like to find a musical person in our community to take these ideas and help make this happen. If you, or someone you know, have the skills and equipment for this, please contact P2P Parent Kristina Eschmeyer, P2P Cheer Coach Regina Rajewich or Friends of Peak to Peak.
NEW

Parking Spots Available
We have a few open reserved parking spots for next year. If you are interested in purchasing one please contact p2p.friends@bvsd.org. We will also be drawing a winning name for one of the open spots May 7th.
---
Upcoming Volunteer Meeting
Please join us for our monthly volunteer meeting on Monday, April 12th at 2 pm. We will be planning staff appreciation, new family mentors, and discussing volunteer roles for next year.
Join by phone:
+1 984-212-7840‬ PIN: ‪795 472 312‬#
Volunteers Opportunities and Interest
We are planning for our volunteer support for next year, 2021/2022, and would love your participation!
VOLUNTEER NEEDS:
FIRST GRADE BOOK COVERS:
We are seeking a few volunteers to cover books for the first grade, this is a work-from-home project, supplies and training will be provided. Please email Ms. Eckstein if you can volunteer.
Enter Volunteer Hours from Home: Thank you for helping us track your hours for our records! See this training on how to enter volunteer hours from home.
Volunteer Process & Training: We will continue to request fingerprints from anyone who intends to volunteer more than once during the school year. If you had your fingerprints done previously and completed the volunteer form then you do not need to complete any volunteer paperwork this year! Please contact Traci Schoeneweis or 303-453-4682 to verify your volunteer status if you are unsure. If you only intend to volunteer once then you will be required to do the background check (not fingerprints) and the volunteer form each year. Please follow this link to print them: Volunteer Information. Volunteer training is online. Anyone that is new to the school needs to view this before volunteering. If you have previously attended or taken the volunteer training you do not need to do it again. It's a good idea for returning volunteers to view this as well. Follow this link Volunteer Training to view the information. It can also be found on the volunteer page of the school website.
Your Volunteer Team would love to hear from you. If you have any interest in volunteering for anything at all but do not know where to start please email one of the below people. We would love to meet you.