* Today's digest is being resent due to an additional course proposal that was added. This is the updated version. Our apologies.
Welcome to the Peak to Peak Weekly Digest!
4/26/21-4/30/21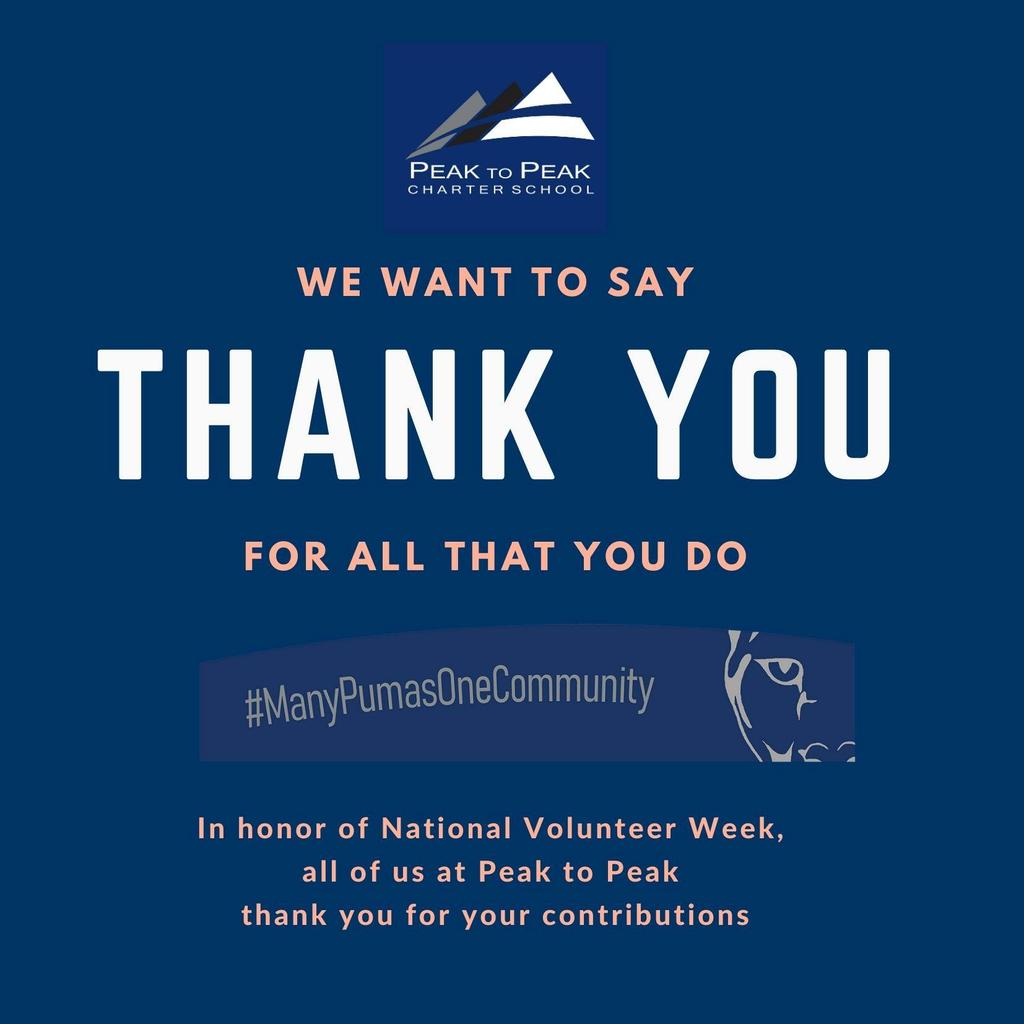 All School News

Table of Contents:

Clarifications on student climate surveys
Curriculum proposals
K-12 kindness scavenger hunt
Return any devices you are not using
Virtual community Q&A: Annual Family Survey
Seed Library
Request for Board candidate questions
Meet your Board candidates
First Friday Art Walk
The Puma Spotlight

Schedule adjustment for last week of school

iReady testing
Ultimate Frisbee
Virtual meeting for current 8th grade parents/guardians
Virtual trivia event

Prom and after prom information for juniors and seniors

Volunteer opportunities
New family mentors wanted
Upcoming meets
Peace, Love, Pumas shirts
Annual Fund donations

National Volunteer Appreciation Week
Volunteer information: Staff Appreciation Week donations

Calendar:

Link to monthly and yearly calendars

Frequently Used Webpages:

---

NEW Clarifications on Student Climate Surveys

This spring, Peak to Peak staff administered our annual internal student climate survey to students in grades 3-12. The purpose of this survey is to assess trends in our school climate and make improvements over time. The data we gather directly from students helps us understand their perceptions and experiences in general and in different demographic groups. We use the data to inform planning to improve our program and, ultimately, student outcomes (Key Performance Indicator #13 in our school's strategic plan). The results are only used internally and are not shared with anyone outside of the school. This data is tracked because knowing how students feel in our school environment is very important. Having an understanding of student experiences and perceptions enables us to nurture a learning environment in which each student is known, respected, and valued as an individual of great potential and promise.

As they are every year, results from this year's survey were published in the Friday Digests earlier in April (Elementary, Middle, and High). Based on some feedback and questions we have received from parents/guardians, we wanted to clarify a few points related to the survey and let you know that we will be making changes based on your feedback...please click Clarifications on Student Climate Surveys to read the entire article.

NEW Curriculum Proposals - UPDATED

It is our process to invite our school community to provide feedback on proposed new curriculum. We are asking our community for input, not votes, as teachers prepared these derived from student interests, etc. Below you will find links to new curriculum proposals. If you have any feedback on the below new proposals please email Traci Schoeneweis by Friday, May 7, 2021 3:00 PM. All comments will be sent to the Curriculum Committee. Thank you.

---

NEW K-12 Kindness Scavenger Hunt

We all need a little bit more kindness this year so we invite the Puma community to join in for a week-long Kindness Scavenger Hunt!

Households in grades K-12 are welcome to participate. The Hunt will start at 9:00 AM of the week of Monday 5/3 and finish on Friday 5/7 at 5:00 PM. It is totally optional for families. Prizes will be awarded to the top three families. Details:

---

NEW Please Return Any School Devices You Are Not Using

If you have a school-owned Chromebook at home that you are NOT using, please return it (and the charger) to the Main Office or High School Hub. You do not need to return a device that your student is still using. If the device is not working, needs a repair, or is missing the charger, please leave a note on the device so we can send it to IT or get a replacement.

---

Virtual Community Q&A: Annual Family Survey

The Accountability Committee invites all in our community to attend the virtual Community Night Q&A on Monday, April 26, 2021, from 6:30-7:30 PM. Members of our committee, along with ELT members will be there to answer any questions you may have regarding this year's Annual Family Survey. We encourage everyone to read this year's survey prior to this event, and it can be found here: The 2021 Annual Family Survey Come Join Us!


April 26th 6:30-7:30 PM

Meeting ID

Phone Numbers

(‪US‬)‪+1 575-586-5195‬

PIN: ‪175 313 434#‬

---

Peak to Peak Seed Library Opens

OUR MISSION: According to the Whole Food Foundation, only 2% of children eat enough fresh fruits and vegetables. In addition, the typical elementary student receives just 3.4 hours of nutrition education each year. We hope to change these numbers by inspiring our K-12 students, families, and faculty to grow their own vegetables, herbs, and flowers at home.

We want to shift the attitudes of many students and families, encouraging them to spend time outside and to use their hands to create something beautiful and sustainable. We want them to create a garden from the soil up, and to use what comes from it to create healthy meals in their kitchens. At our school, we already have a successful and thriving K-12 Learning Garden with nine raised beds and an open field. We have watched students at every level enjoy this garden and take such good care of it. The kids have learned how to build raised beds, lay irrigation, plant new seeds, stake big plants, pull weeds, lay down compost and so much more. This year, we are opening a seed library for our school and allowing our kids, families, and staff to take what they have learned in the school garden and transfer that gardening knowledge and those hands-on skills to their own backyards. We will roll our library out on Earth Day, and it will be housed in a central location in the main building. Take a look at our seed library website: SEED LIBRARY

HOW IT WORKS: The Seed Library is located in the south building by the main office at Peak to Peak. Stop by and take a look at our available seeds. Seeds are separated into packets with growing instructions, divided into three categories: easy-easy, easy, and difficult. We have vegetables, herbs, and flowers available. Please return any seeds you do not use into the white bin marked "return" or place them into Mrs. Bunting's mailbox in the office.

Please stop by and take a look and enter to win fun and educational garden prizes!

Virtual Board Candidate Q&A - Request for Candidate Questions for Annual Meeting

In order to prepare for our Board Candidate Q&A during our Annual Meeting on May 5th, the Election Committee is requesting any audience questions to please be submitted in advance. There will not be an opportunity to ask questions live but the candidates will be responding live. Questions can be submitted anonymously here: Community Questions for Board Candidate Forum

Please submit any questions by Monday, May 3rd 3:00 PM. Candidates will not know the questions in advance.

---

Meet Your Board of Director Candidates

The 2021 election for the Peak to Peak Board of Directors is coming in early May. There will be THREE OPEN SEATS for elected board members. Two of the seats have 3-year terms and the third seat has a 2-year term. The online election will take place in May with specific voting information and details to follow at that time. Please click on their names to read the answers to the candidate questions:

Please contact Traci Schoeneweis with questions.

Thank you,

The 2021 Peak to Peak Election Committee

Please encourage your students to submit their art, music, or theater performances for the May K-12 Community First Friday Art Walk! We are seeking recorded performances no longer than 60 seconds (and based on submissions may trim to fit).

Upcoming Date:

MAY 7th: deadline for submissions is April 30

The Puma Spotlight is a place where we capture and celebrate the success of our students and staff members. Each spring, we are delighted to see an increase in the awards, scholarships, championships, and significant accomplishments of our Pumas. Be sure to visit the Puma Spotlight page on our website to see the good news that has been rolling in this month. At the top of the page, you will find a link to submit your students' achievements to be shared with our community.
NEW

Schedule Adjustment Last Week of School
It is hard to believe the end of the year is drawing near! Due to our AM/PM cohort model and the need to keep equitable time for student attendance, all elementary students will have the last day of school on Wednesday, May 26th. No elementary students will attend school on Thursday, May 27th.
This is noted on our Peak to Peak elementary yearly calendar, but was published at the start of the year showing an extra early release on 5/27, so we wanted to bring it to your attention. (We are unable to meaningfully schedule two cohort times within one morning, so had to adjust accordingly.) Secondary students will still attend their last classes on Thursday, May 27th as indicated on their calendar.
---
---
Weekly Secondary Student Announcements
Please click the below link to view the daily middle and high school student announcements:
"The Voice of Peak to Peak" (daily secondary student announcements)
---
---
Middle School students will complete iReady in the afternoon of May 4th and 5th from 1:00-3:00 PM each day. This will allow us to collect reliable information on student progress in math and reading and help inform instruction. The test will be administered at home, online, in a synchronous Google Meet session with their advisory teacher. Students will need a computer, internet, scratch paper, a writing utensil, and headphones. Parents are encouraged to support students by ensuring they log on for their virtual session, providing a quiet place to test, and reminding students to do their best, but that this test does not impact their grade. Parents will not be expected to participate in the testing process beyond these requests. More information will be shared with parents and students in the coming weeks; if you have any questions or concerns, please reach out to tracy.durland@bvsd.org.
---
NEW Ultimate Frisbee Club Begins April 28th
The middle-school Ultimate Frisbee Club is returning! We meet on the West Field Wednesdays from 3:30-5:00 PM beginning Wednesday, April 28th. We will continue weekly through May 19 (though weather may have something to say about that schedule). This is a free event; all students in grades 6-8 are welcome; no experience with the sport is necessary. Wear sporty clothes, including a facemask, and bring your own filled water bottle, and you'll be ready to go. To join, please complete this permission form (PDF), and participants should either bring the printout their first day or email the completed form to the club sponsor: brian.rozinsky@bvsd.org. Mr. Rozinsky is also happy to respond to any questions you have about the activity.
---
Current 8th Grade Parents/Guardians (No Students)
Save the date for Transition to HS Night on Tuesday, May 4 from 6:00-7:00 PM. Please join us for this virtual event! We will welcome you to our high school, discuss graduation requirements, and talk about our 9th grade overnight field trip to Camp Timberline! This evening is for ALL current 8th grade families new and returning! Please submit your questions about high school ahead of time by filling out this form.
Joining information: meet.google.com/rcf-vhui-tce
Join by phone: (US) +1 402-647-0316 (PIN: 270109726)
Come join us for Middle School Online Trivia Night on Monday, April 26th at 5:00 PM. Please click the link on the poster in the below link (or see them in the middle school hallways) to register and then a calendar invite will be sent to you with the google meet. There will be prizes for the top 3 winners!
Link to Trivia slide.
---
NEW Prom and After Prom Information for Juniors and Seniors
Prom Information
:
The P2P Senior Prom 2021 will be held 8:00-11:00 PM, Friday, April 30, at Lionsgate Events Center, Lafayette. While we are limiting the dance to our senior class this year due to health/safety restrictions, P2P seniors may bring a guest to prom. Any guest who is not currently enrolled at P2P must have a High School Event Guest Pass signed by the guest's school administrator/reference and Mr. Mathews by Thursday, April 29. Passes can be turned in to the HUB or Ms. Amidon.
Thanks to our P2P leadership team, prom tickets are FREE, but all students must RSVP on RevTrak by 12:00 PM on Thursday, April 29. No walk-ins will be allowed. Students will be able to pick up their prom tickets at school on Thursday or Friday, April 29-30. Students who are not in person will pick up their tickets at the dance.
Per CDE and BVSD prom guidelines, students are asked to create groups ("pods") of up to 10 students for prom night. If students plan to have dinner or otherwise gather before prom, they should do so with those in their pod. At the dance itself, students will be asked to remain with their pods and maintain social distance from other pods. Students should submit the names of those in their pod using this Google form.
After Prom Information
:
After Prom, a parent/guardian-organized event, will be held at Boondocks in Northglenn from 12-4 AM. After Prom is open to P2P seniors, their guests (if they attended Prom and filled out the required permission form), and P2P juniors. Juniors are not permitted to bring outside guests. After Prom Students can buy passes for After Prom on RevTrac for $10. After Prom passes must be purchased by 12 noon on Thursday, April 29. No walk-ins will be allowed. (Note: We will not be issuing physical tickets for After Prom.) Passes include unlimited laser tag, bowling (includes shoes), miniature golf, bumper boats, go-karts, ropes course with zipline, and $5 arcade play. Pizza and salad, as well as prepackaged snacks and bottled water, are also included. Prizes will be raffled throughout the night. More information about donating to or volunteering for After Prom can be found at www.p2pafterprom.com.
---
Volunteer Opportunities Open for Next Year - Please Fill Out This Form!
We are thrilled to start organizing volunteer opportunities for next year! THANK YOU EVERYONE who has filled out our interest form so far. Between our new family mentor program kicking off in a few weeks, to all our back-to-school events, and more... we would love for you to start thinking about what you may be interested in helping with in the 2021/22 school year. For a comprehensive list of the many ways to support Peak to Peak, please check out this chart. Ready to let us know what you are interested in? We invite you to fill out the interest form so we can begin sharing information about these opportunities. If you have questions please contact Rachel Hirt or Allie Cross.
** We will soon begin planning for our 2022 Peak Gala! Let's pick up where we left off with another festive event celebrating our community. Please contact Rachel in the Friends office if you are interested in specifically helping with the Gala. If you filled out the form above and selected "events" as an area of interest we already have you on the list.
New Family Mentors Wanted!
We have many very excited new families ready to be welcomed to our school! As we've been doing for 20 years, we will soon be matching current P2P families with our new families to provide a warm welcome and make themselves available for any questions our families may have. We are planning virtual and in-person events to connect our mentors and families so the more mentors we have the better! Please fill out this form if you would like to be a mentor. Questions? Please contact P2P parent Siobhan Webster or Friends of Peak to Peak. Thank you!
Upcoming Community Meets:

P2P Wine Club: Our final wine tasting meet for the year will be

Saturday, May 15th.

To receive updates on this festive community group please email Christy Vaughan
P2P Book Club: After a lively discussion of our most recent book "White Noise", the P2P Book Club decided to choose 2 high school "choice books" to read over the summer and connect back in August. Please stay tuned for these book decisions and contact P2P parent Marian Freshour to be included in club communications. The club would like to thank HS teacher Ms. Karen Amidon for joining us this year, leading thought-provoking discussions, and providing interesting information on literature choices at Peak to Peak.
The P2P Cross-Industry Leadership Networking parent/guardian interest group is meeting regularly. If you are interested in connecting with other Puma families on this topic please contact P2P parent Yulia Duryea.

P2P Small Business Support Group will be next meeting on

May 5, 2021 5:30 PM

please email Angela Alter to receive meeting details.
Still need a Peace Love Pumas shirt? We have a healthy inventory of all sizes (youth S - adult xxL) ~ please contact us to set up an appointment to come by. Shirts are $10.
There is still time to support this year's Peak Annual Fund. Join other Puma families in showing your support for our school this year. Our operating budget appreciates and depends on our support. Thank you and Go Pumas!
---
NEW

National Volunteer Appreciation Week
This week is National Volunteer Appreciation Week, and we THANK YOU for all your contributions this year.
VOLUNTEER NEEDS:
Staff Appreciation Week is approaching, May 3-7th. We'd love to spoil our staff with snacks and drinks that week. Please sign up here to donate, we ask that your donations be dropped off by Friday, April 30th.
Enter Volunteer Hours from Home: Thank you for helping us track your hours for our records! See this training on how to enter volunteer hours from home.
Volunteer Process & Training: We will continue to request fingerprints from anyone who intends to volunteer more than once during the school year. If you had your fingerprints done previously and completed the volunteer form then you do not need to complete any volunteer paperwork this year! Please contact Traci Schoeneweis or 303-453-4682 to verify your volunteer status if you are unsure. If you only intend to volunteer once then you will be required to do the background check (not fingerprints) and the volunteer form each year. Please follow this link to print them: Volunteer Information. Volunteer training is online. Anyone that is new to the school needs to view this before volunteering. If you have previously attended or taken the volunteer training you do not need to do it again. It's a good idea for returning volunteers to view this as well. Follow this link Volunteer Training to view the information. It can also be found on the volunteer page of the school website.
Your Volunteer Team would love to hear from you. If you have any interest in volunteering for anything at all but do not know where to start please email one of the below people. We would love to meet you.